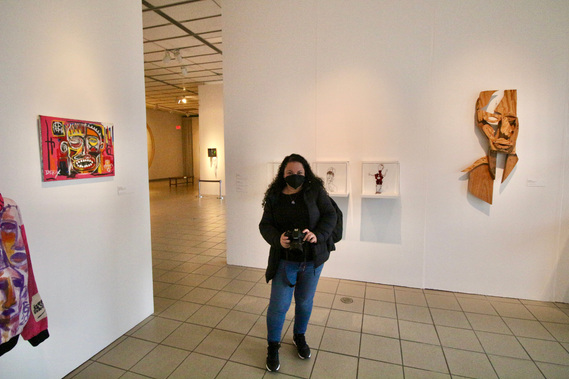 Rachel Fawn Alban is a Photographer, Writer, and Arts Educator based in Newark, NJ.
Rachel began publishing and sharing her photos in 2012 online while documenting the art and artists of 5Pointz, the famed aerosol art center in Queens, NY. After the 5Pointz building was destroyed in 2013, Rachel continued to photograph the artists, expanding to other graffiti and street art collectives- eventually building a collection of thousands of images. This unique background informs every aspect of Rachel's photography practice today, including her eye for light, color, movement, and composition. Now, Rachel is focused on the arts scene in NJ, documenting artists and public art in local communities.
Rachel is the adoring kitty-mama of Baxter, the cat who used to live at 5Pointz. They have been living in Newark since 2015 with Rachel's spouse, Chris.
Work
Since 2013, Rachel has covered arts and culture stories for JerseyArts.com, UntappedCities.com, StreetArtNYC.org, and ArtBreakout.com, and was a contributing photographer to Google Arts and Culture's online 5Pointz exhibition. Recent photography collaborators and clients include: Newark Artist Collaborative, sponsored by Audible, The Morris Museum, City of Newark's Division of Arts & Culture, Project for Empty Space, NJPAC Center for Arts Ed, Gallery Aferro. See CV for a very long list with links.
As an arts educator, Rachel develops and leads art workshops for Paul Robeson Galleries, Abrons Art Center, and Scholastic's Alliance for Young Artist and Writers, and is on Arts Ed Newark's Trauma Informed Team. Rachel earned her BFA in Art Education and MPS in Art Therapy at the School of Visual Arts.

As an arts educator, Rachel works with organizations throughout the greater metropolitan area, including Paul Robeson Galleries, Arts Ed Newark, Abrons Art Center, and Scholastic's Alliance for Young Artists and Writers. Rachel holds degrees from the School of Visual Arts: a BFA in Art Education with double major Graphic Design, and a MPS in Art Therapy.
Rachel offers on-location photography services for artists, organizations, and individuals in the greater NJ/ NY area. Please reach out if you're interested in working together!